£54.99 – £704.98
ZYXEL NR5101 5G Router & Modification Services
Description
ZYXEL NR5101 5G Router & Modification Services
Purchasing options:
WIFI Modification – Converts the internal WIFI antennas for external antenna use providing you with 2x SMA WIFI antenna ports.
Router Options:

Without Modifications selected – Includes a new, unused unlocked router that will be unmodified.
With Modifications selected – Includes a new, unused unlocked router that will be modified to your selected modifications.
Send your router – Requires you to send us your router for modification.
Full Mod – Provides 4x 4G SMA ports and 2x 5G N77/N78/N79 SMA Ports.
Please Note – All modifications (4G/5G & WIFI) removes and replaces all internal antennas for SMA external antenna ports. The internal antennas will no longer function. The router will be reliant on the new SMA ports for connectivity.
Router Modification Service
This Purchasing option is used to purchase our fantastic, well known and loved router antenna modification service.
This requires you to send your router to use for modification.
Modification Service Process:
Once you have completed the checkout process, please dispatch your router to the address within you purchase receipt (received via email) and provide us with the tracking information via email.
More details about the modification:
Please look in our "FAQ" section for our more frequently asked questions.
For more information and what this modification can, do take a look at our  "Modification Info" page.
Download and read our "Modification User Manual" in the download tab below
More Tools & Information:
Need help getting up an running?. Don't forget Router-Mods offer an onsite installation service. Click here for more information.
Download our advance guides for more in-dept details for everything you need to know for the perfect installation.
Don't forget to take a look at our "installation prep" free guide.
If you have any further questions, please contact us.
Additional information
| | |
| --- | --- |
| Weight | 1.99 kg |
| Dimensions | 10 × 10 × 20 cm |
| 4G/5G Mod Type | Full Mod, No Mod |
| WI-FI Mod | Yes, No |
| Router | Send Us Your Router, Buy Router From Us |
Router Features
Speed, the Cornerstone for Future Life
5G offers the capacity to enable additional smart home and office capabilities that require high-bandwidth and low-latency. This assists the Internet of Things (IoT) expand rapidly. 5G coverage of the network is proliferating, which is destined to transform the tech in your home and office. NR5101 has 5G downlink speeds of up to 5 Gbps*, which can be the cornerstone of your smart life construction. Get up to speed with 5G now!
 4G – Fulfills Basic Connection
 5G – Make Any Space Smart
Text message, surf the Internet
Watch HD video (1080P), stream a webinar, video conferencing
Watch 4K UHD (2160P), video calls
Download 1G file in 2~3 seconds
Support over 100 workers without lag
Smart home, smart security
Empower the Way of Your Smart Life
Get a head start on building your smart home and office. It's time to upgrade your network to constant reliable 5G connectivity, improve your network capacity to handle a greater number of connected devices. Empower your future with NR5101, let it be your backbone of your network and begin to live a smarter life!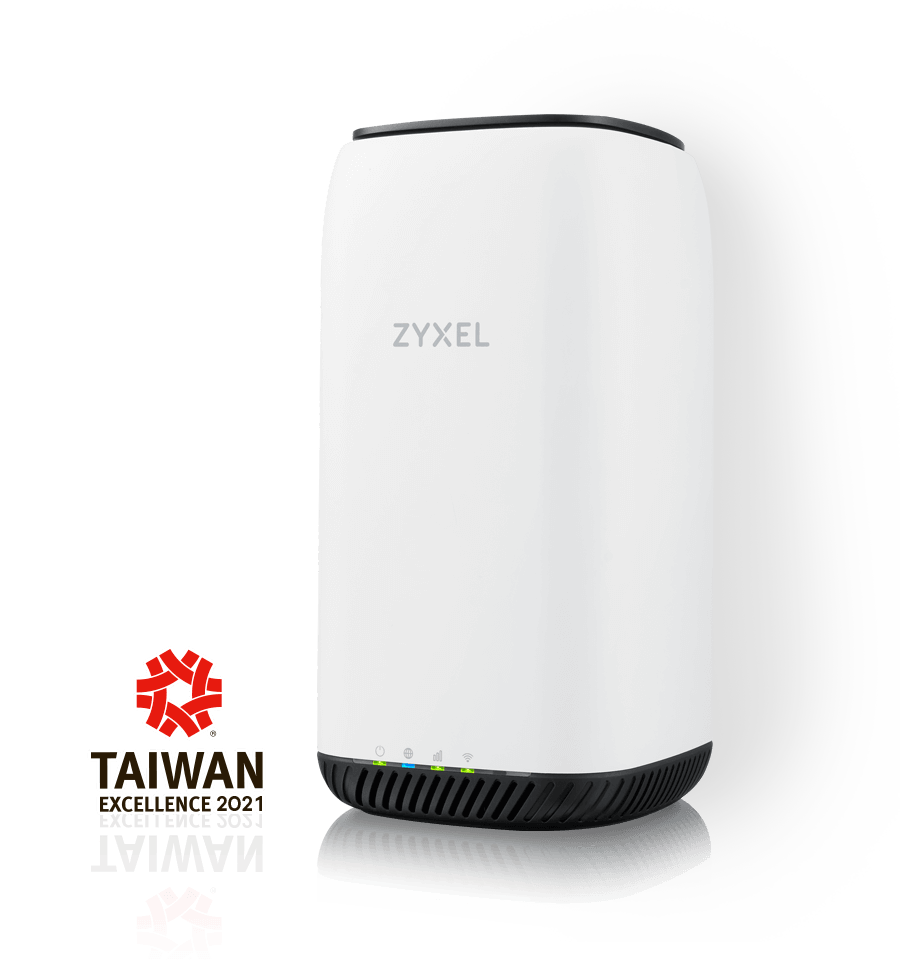 Next-Gen Connectivity
When 5G meets WiFi 6, they can boost larger bandwidth and capacity than legacy solutions. These two cutting edge technologies come together in the NR5101, bringing new heights to performance and capacity for mobile users and IoT devices in homes and commercial buildings. NR5101 deploys AX1800 WiFi 6, which can deliver up to 4x the speed compared to WiFi 5. NR5101 makes the networking power stronger than ever!

Multifunction Router,
All Up to You
NR5101 is not only a simple network router, but it also combines WLAN AP, LAN gateway, and USB 2.0 functions all into one box. Its WiFi 6 can share up to 64 wireless devices simultaneously. Operates both in bridge and router mode, making the device easy to deploy and integrate into your existing environment. NR5101 offers more than just 5G, the variety of usages are entirely up to you!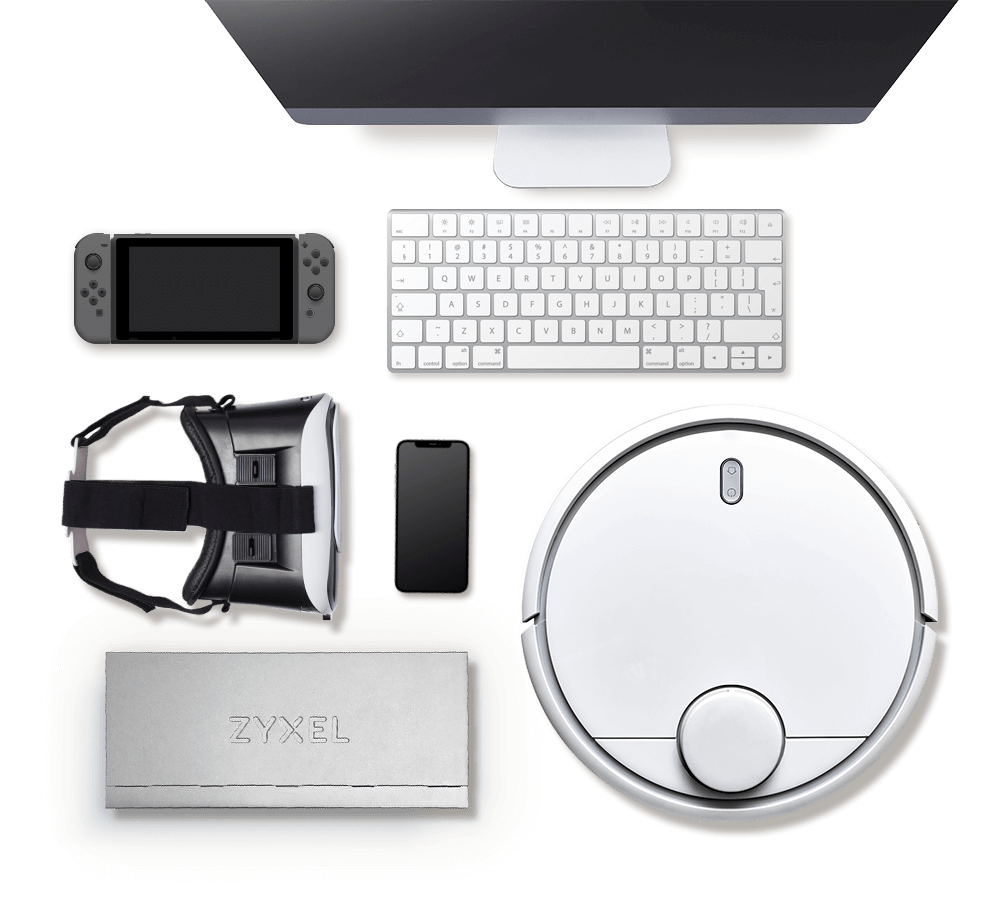 Non-Stop Connectivity
NR5101 is equipped with the highest-level 5G technology, connections for downlink speeds can go up to 5 Gbps* with 6 built-in 5G/LTE/3G antennas. It's designed for those who need a consistent high-speed connection when traditional wired broadband is slow, spotty or unavailable. Its failover capability ensures that you'll have internet access even during a network outage, which you can make it serve as a primary or backup option for home or business internet. Its external antenna ports also allow you to improve signal reception. Get 24/7 non-stop connectivity!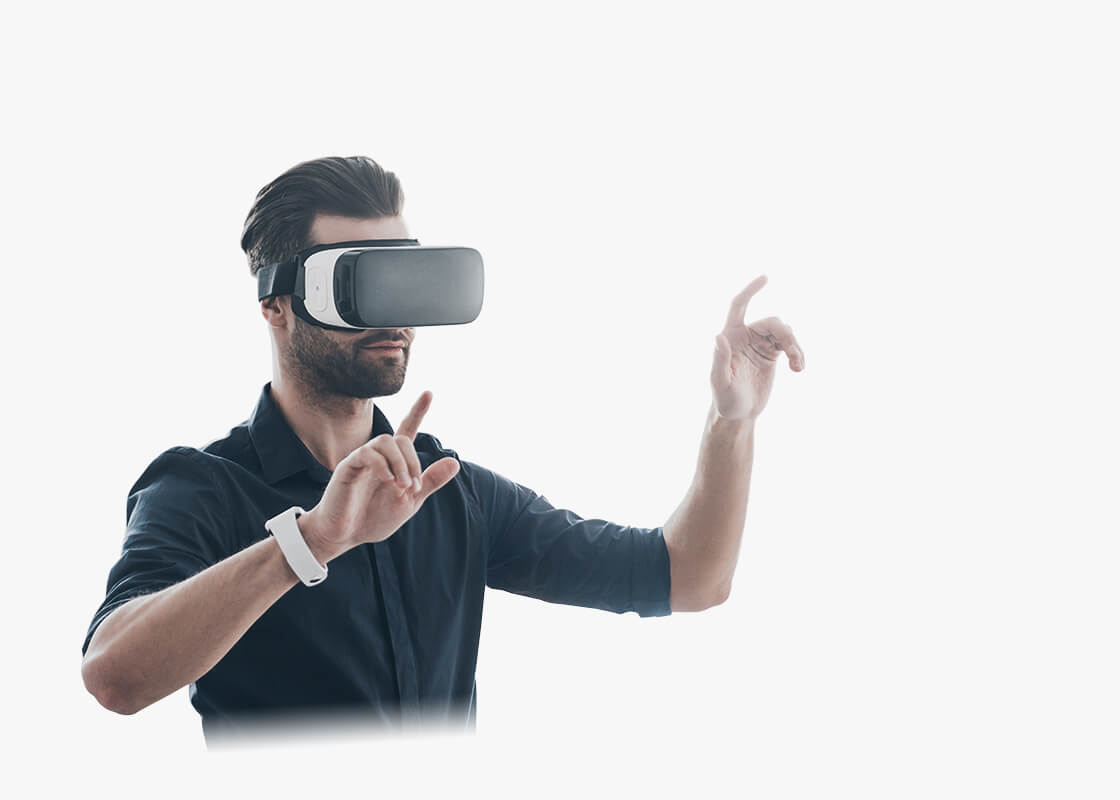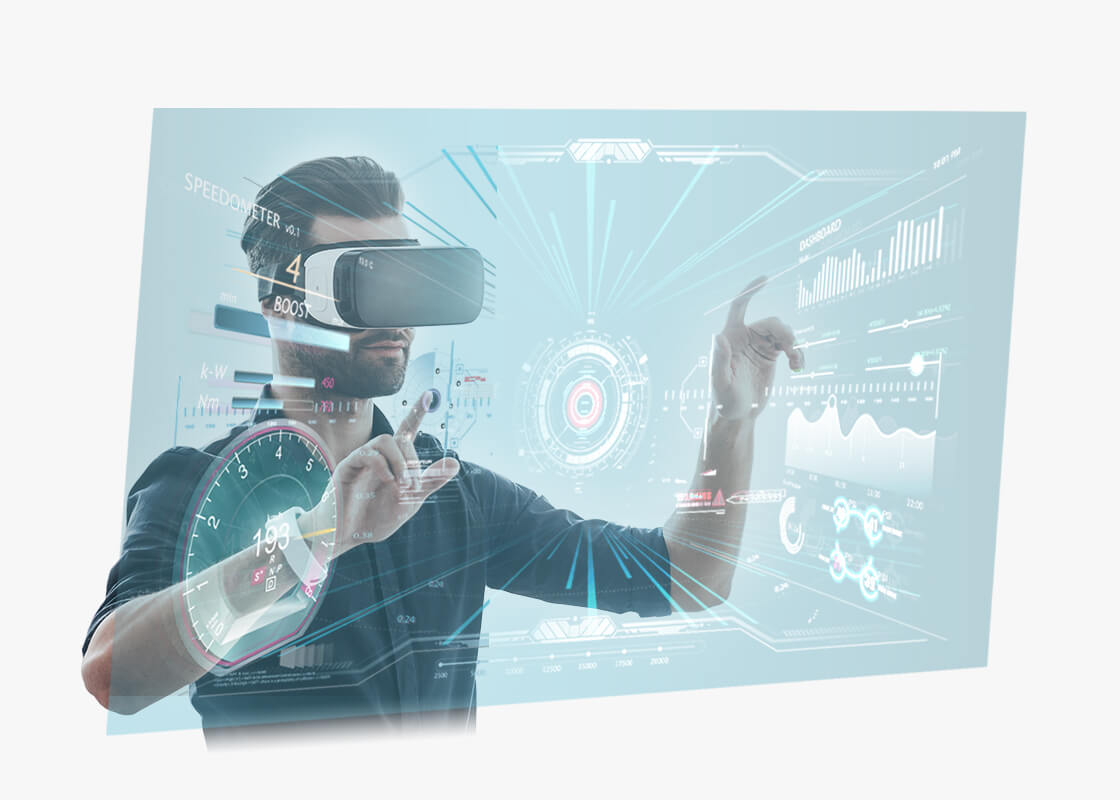 Security without Compromise
Protect your smart home and office. When these places are full of connected network devices, they become possible entry points for cybercriminals. NR5101 is shipped with essential security features!
Multiple SSIDs/hide SSIDs
Application-level firewall
NAT/NAPT firewall
LAN MAC filtering
DoS attack detection
IP filtering
WPA2 and WPA3
URL filtering
SPI


Easy App &
Web Management
NR5101 is designed with smooth, elegant exterior with a discreet, sleek design making it both durable and stylish. Its plug-and-play capability, intuitive free "Zyxel Air" app and web GUI combination offers an easy-to-use management experience through either a mobile device or desktop. NR5101 makes your networking life easier and smarter!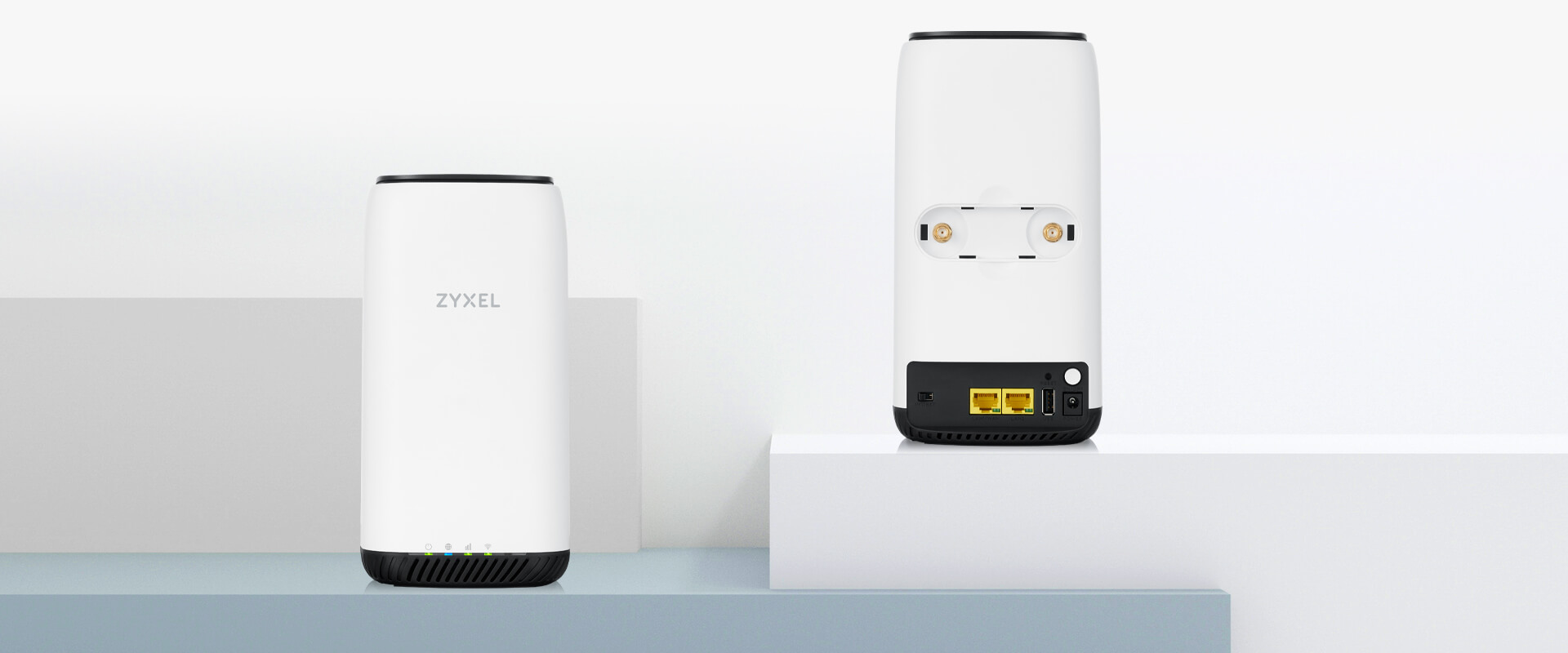 Router Specifications
Hardware Specifications
5G NR interface
• 3GPP Release 15 standard-compliant
• Supports both NSA and SA modes
• Supports frequencies: n1/n3/n5/n7/
n8/n20/n28/n41/n77/n78/n38/n40
• DL 4×4 MIMO: n1/n3/n7/n38/n40/n41/
n77/n78
• Data rates:
▪ 5G SA: DL 4.2 Gbps; UL 900 Mbps*
▪ 5G NSA: DL 5 Gbps; UL 650 Mbps*
• Supports DL modulation QPSK,
16-QAM, 64-QAM and 256-QAM
• Supports UL modulation QPSK,
16-QAM, 64-QAM and 256-QAM
• Output power:
▪ Class 2 (26 dBm) for 5G NR n41/
n77/n78
▪ Class 3 (23 dBm) for 5G NR n1/n3/
n5/n7/n8/n20/n28/n38/n40
4G LTE interface
• 3GPP UE Category 20 standardcompliant
• Supports frequencies:
▪ LTE-FDD: B1/B3/B5/B7/B8/B20/B28/
B32/B38/B39
▪ LTE-TDD: B40/B41/B42
• DL 4×4 MIMO:
▪ LTE-FDD: B1/B3/B7
▪ LTE-TDD: B38/B40/B41/B42
• Peak data rates:
▪ Max. DL 2 Gbps/UL 200 Mbps*
• 4 internal antennas
• Supports DL modulation QPSK,
16-QAM, 64-QAM and 256-QAM
• Supports UL modulation QPSK,
16-QAM, 64-QAM and 256-QAM
• Output power:
▪ Class 2 (26 dBm) for LTE B38/B40/
B41/B42
▪ Class 3 (23 dBm) for FDD/TDD LTE
bands
UMTS/EDGE/GPRS/GSM Air interface
• Standard-compliant: DC-HSDPA/
HSPA+ compliant
• DC-HSDPA/HSPA+ standardscompliant
• Supports frequencies: B1/3/5/8
• Peak data rates:
▪ DC-HSPA+ downlink data rates up
to 42 Mbps*
▪ HSUPA uplink data rates up to 5.76
Mbps*
▪ UMTS data rates up to 384 Kbps*
WiFi Air Interface
• Wireless standard: IEEE 802.11
b/g/n/a/ac/ax
• Wireless speeds:
▪ Link rates up to 573 Mbps* for
2.4 GHz
▪ Link rates up to 1.2 Gbps* for 5 GHz
• Internal WiFi antenna:
▪ Dual-band & concurrent 2×2 + 2×2
•WiFi antenna gain:
▪ ~3 dBi for 2.4 GHz
▪ ~5 dBi for 5 GHz
5G/4G/3G antennas
• 2 SMA connectors for external
antennas**
• 6 embedded omni-directional
antennas
• Ultra-high band:
▪ Up to 4 dBi peak gain
• High band and middle band:
▪ Up to 4 dBi peak gain
• Low band:
▪ Up to 2 dBi peak gain
Hardware interface
• Two 10/100/1000 Mbps Ethernet
RJ-45 LAN ports, LAN1 can be
configured for Ethernet WAN port
• LEDs:
▪ Power indication
▪ LTE connection status
▪ LTE signal status
▪ WiFi connection status
▪ USB host status
▪ LAN status
• Two external antenna connectors
(SMA type)
• One 3FF/Micro SIM card slot
• One power on/off button
• One WPS/WiFi on/off button
• One LED on/off button
• One reset button
• One USB 2.0 host port for file sharing
Power consumption
• 24 W (peak)
Physical Specifications
• Item dimensions (WxDxH):
100 x 100 x 205 mm
(3.94" x 3.94" x 8.07")
• Item weight: 600 g (1.32 lb.)
• Packing dimensions (WxDxH):
247 x 170 x 120 mm
(9.72" x 6.7" x 4.73")
• Packing weight: 1600 g (3.54 lb.)
Environmental Specifications
Operating Environment
• Temperature:
0°C to 40°C (32°F to 104°F)
• Humidity:
10% to 90% (Non-condensing)
Storage Environment
• Temperature:
-30°C to 70°C (-22°F to 158°F)
• Humidity:
5% to 95% (non-condensing)
Certification
• CE
• WEEE (Waste Electrical and
Electronic Equipment) Directive
certification
• RoHS (Restriction of Hazardous
Substances) Directive certification
• HSF (Hazardous Substance Free)
• European Parliament and Council
Directive 94/62/EC of 20 December
1994 on packaging and packaging
waste
Package Contents
• Multiple-plug power adaptor
• Ethernet cable 1.8 m 8P8C
• Quick Start Guide
• Warranty card
• DoC
• Safety warranty
* The maximum data rates is a theoretical value.
The actual data rates depend on the network
environment.
** 2 SMA connectors only support 3300-4200 MHz
frequency.
S
Modification Video